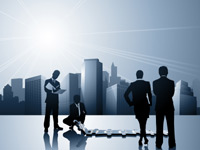 Capabilities
Our many years of professional experience have shown us that the most qualified candidates in the marketplace are successful and employed, and thus rarely respond to unsolicited inquiries. Mercury Partners employs a rigorous, disciplined process to identify, recruit, and assess exceptional candidates, allowing us to deliver the best possible solutions to our clients.
Mercury Partners' extensive reach within the market extends across various types of financial institutions including:
Global Investment Banks
Hedge Funds
Traditional Fund Managers
Private Equity
Venture Capital
Specialty Finance
Hedge Fund of Funds and Private Equity Fund of Funds
Management Consulting
Insurance
Real Estate
Fortune 500 Companies
We specialize in the placement of professionals ranging from Analyst through Managing Director. Our broad coverage model allows us to better understand the talent marketplace from the bottom up. In addition, our diverse recruiting framework focused across the buy and sell side continuously extends our networks and recruitment abilities.